Virginia Gov. Ralph Northam (D) walked back his admission that he appeared in a racist photo in his medical school yearbook during a press conference Saturday. The appearance raised more questions than answers, however, and seemed unlikely to slow an avalanche of calls for his resignation.
Northam apologized Friday evening after the 1984 photo, which shows two men, one in a Ku Klux Klan hood and robe and another in blackface, was published by a right-wing website.
He backtracked on Saturday, insisting that the picture was not him after all.
Northam admitted during the press conference at the governor's mansion in Richmond, Virginia that there was at least one occasion when he appeared in blackface — a dance contest the same year during which he dressed up as Michael Jackson and performed the moonwalk.
But he said that the photo on his medical school yearbook page was someone other than him, and that the picture somehow — erroneously — ended up on his page.
"Yesterday I took responsibility for content that appeared on my page in the Eastern Virginia Medical School yearbook that was clearly racist and offensive," Northam said, reading from a prepared statement. "I am not and will not excuse the content of the photo. It was offensive, racist, and despicable."
Northam said he did not purchase the yearbook and saw the photo for the first time Friday, although he acknowledged that the offensive photo appears with others he submitted on a page with his name on it.
The governor recognized that some people might not find his explanation completely credible. Nevertheless, he said, "in the hours since I made my statement yesterday, I reflected with my family and classmates from the time and affirmed my conclusion that I am not the person in the photo."
"I am far from perfect and I can always strive to do more," Northam said. "I am asking for the opportunity to earn your forgiveness."
Responding to questions from reporters, Northam said he didn't know the motive or intent for people who gave him the nickname "Coonman," a highly offensive racial slur, which appeared under his photo in the Virginia Medical Institute's yearbook.
When asked why he initially took responsibility for the photo, Northam said his apology Friday was an attempt to respond to the hurt the photo caused. Afterward, he "finally had a chance to sit down and look at the photograph in detail" and came to the conclusion it is not him.
At this point, however, Northam seems to have few allies left. The state Democratic Party has called for his resignation, along with prominent national politicians, 2020 presidential contenders, and organizations ranging from Planned Parenthood to environmental groups. While Northam was speaking Saturday, the Virginia Legislative Black Caucus amplified its call for him to resign.
The embattled governor reportedly made calls to several state lawmakers after his initial apology, saying he didn't believe he should have to resign for something he didn't do. "He should have said that yesterday then," state Sen. L. Louise Lucas (D) told the Washington Post. "He just told me he didn't think it's him. And I said, 'Ralph, this is a day late and a dollar short. This is too late.'"
Virginia Delegate Mark Keam (D) was unimpressed with Northam's explanation Saturday. "For 45 minutes, @RalphNortham tried to (moon)walk back his statement from last night and failed miserably," Keam tweeted. "Here's my bottom line. Whether he put on a blackface in Virginia or in Texas, he has now admitted he did so. And that is why he should not be our Governor today."
Similarly, U.S. Reps. Don Beyer (D-VA) and Gerry Connolly (D-VA) said in a statement shortly that they were expecting Northam to resign before the press conference and maintained that position afterward.
If the pressure becomes too great and Northam does in fact step down, he will be succeeded by Lt. Gov. Justin Fairfax (D), who would become only the second African American governor in Virginia history.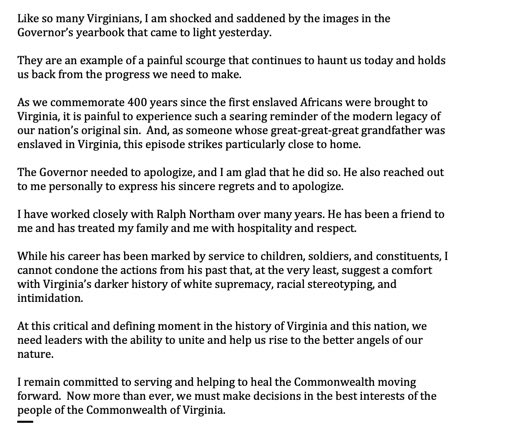 In a statement on Saturday, Fairfax said he was "shocked and saddened" by the controversy.
"The Governor needed to apologize, and I am glad that he did," Fairfax said, adding that Northam also expressed his regrets to him personally. "I cannot condone the actions from his past that at the very least, suggest a comfort with Virginia's darker history of white supremacy, racial stereotyping and intimidation," the lieutenant governor said.
Fairfax added that the state more than ever needs "leaders with the ability to united and help us rise to the better angels of our nature."